Pakistan batsman Babar Azam managed to steal the spotlight this week regardless of several on-going cricket clashes.
Azam bagged two tons in the opening two ODIs and helped his side seal the series against West Indies. His heroics at the Sharjah Cricket Stadium led him become the star of the week in the cricket world.
The 21 year old hammered his maiden ton in the opening One Day International in Sharjah. His spectacular 120 off 131 balls helped Pakistan to post a total tally of 284 from 50 overs. The second highest score in the innings was 54. Babar's crucial partnerships with Sharjeel Khan and Sarfraz Ahmed steered his side to glory.
In the bowling end, Mohammad Nawaz picked up four wickets and Hasan Ali grabbed three as West Indies were totalled at 175.
In the second ODI at the same venue, Pakistan were reduced to 40 for two when Babar stepped in. He managed to post 123 from 126 balls through massive six and eight fours. Babar was part of two crucial partnerships in this match. He posted 169 runs with Shoaib Malik and contributed an aggregate score of 73 with Sarfraz Ahmed.
The veteran on the other hand also contributed crucial score in the match. His 90 runs off 84 balls along with T20 skipper Sarfraz's 60 helped Pakistan pen down a tally of 337.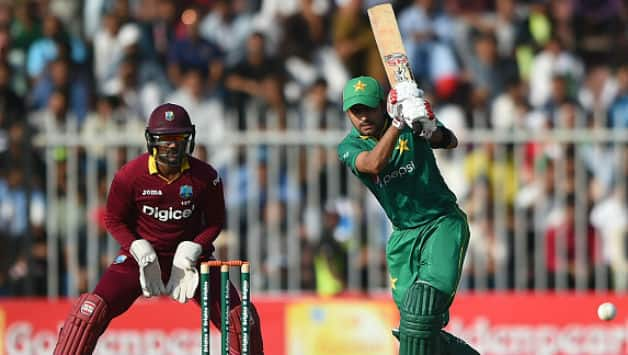 In response, the Caribbean side could only manage 278 runs from 50 overs. They eventually suffered another series defeat at the hands of Pakistan.
Pakistan's arch-rival India were all out at 316 from the opening innings against New Zealand at Eden Gardens. AjinkyaRahan, CheteshwarPujara and WriddhimanSaha all bagged fifties in the innings.
The fast bowlers stole the show in the second Test of the series. The pace attack of the visitors led by Matt Henry claimed seven out of ten wickets.
However, Bhuvneshwar Kumar with five scalps and Mohammad Shami's three wickets halted the Black Caps at 204.
In the second innings, Trent Bould and Matt Henry dominated again. However, Rohit Sharma and Saha helped the hosts set a target of 376 for New Zealand in the later innings.
Elsewhere in the sub-continent, Bangladesh managed to overpower Afghanistan in the final ODI. TamimIqbal hammered a century in the decider.
In the Australia tour to South Africa, Quinton de Kock posted a marvellous 178 to help the hosts chase 295 in the opening ODI at Centurion.
In the second ODI, Faf du Plessis's ton helped South Africa take a 2-0 lead from the five-match ODI series against the Aussies. RileeRossouw bagged half-centuries from  both ODIs.
Comments
comments